This week, boxes of Cruising the Secret Coast were delivered to the warehouse at Robert Hale and Co. Click here for book details, including sample pages and an overview by Waggoner publisher Bob Hale, and to order online.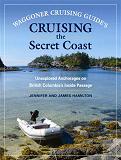 The book was a long time in coming. In 2002 we began researching what would become Secret Coast, and published our experiences in Pacific Yachting and PassageMaker magazines. And we sent our findings to Bob Hale, who printed many in the Waggoner Cruising Guide. At the same time, Jennifer also was working on a book describing the history of the Broughtons and surrounding area. Bob had reviewed several early manuscript drafts and provided critical feedback and advice.
By early 2004 we had enough material gathered to consider writing a cruising guide. The book was a natural companion to the Waggoner, and since we had been working so well with Bob as correspondents and on the history book, he was a natural choice as publisher. When we suggested the idea to Bob, he and the rest of team at Robert Hale and Co. were interested. We continued to gather material for the cruising guide and work on the history book until 2005, when it became clear that only one project could be done at a time. We decided to focus on the cruising guide and put the history book on hold.
Thus began an intensive two-year effort of writing, editing, map production, picture selection, and many, many, many rounds of reviewing and proof-reading. During that period we exchanged more than 1,500 emails with Bob and graphics designer Marni Erwin. Finally, following nearly a three-month print cycle overseas, the books have arrived. It's wonderful to see the finished result.
We'll be signing copies for the first time on April 12th from 8am to 12pm at the 48° North/Fisheries Supply Boater's Swap Meet. The annual event is popular. The Fisheries Supply upper and lower parking lots and the street west of the store will be open to people for selling, and Fisheries Supply also sells discontinued items at deep discounts. Although the official swap meet hours are 7am to 1pm, sellers start arriving at 4am to establish a good location, and the selling starts by 5am.