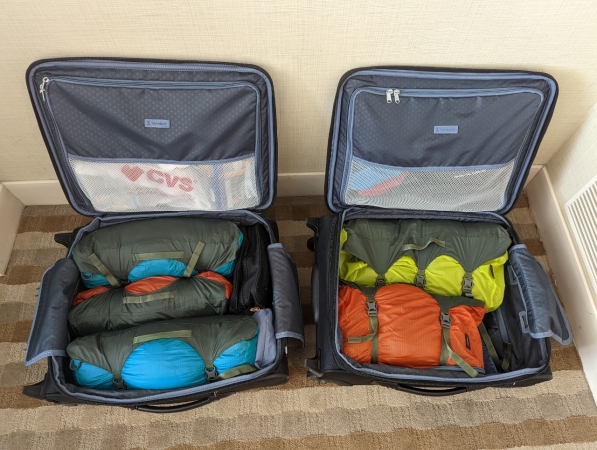 Osprey Straitjacket Compression Sacks are a wonderful piece of gear that dramatically reduce the size of packed items. We can carry much more than we normally could in the same space, and keep everything well-organized. Their rectangular shape also allows for more efficient loading and stacking. Unlike designs that use zippers for both closure and compression, the straitjacket sacks use zippers for closure but straps to drive aggressive compression. The straps can be pulled tight with significant force to really compress the contents. The sacks look somewhat like a straitjacket, hence the name.
The bags come in four sizes: 8L, 12L, 20L and 32L. We bought our first one to stow our camping bedding, and have purchased literally a dozen more since. The pictures below show two standard Casper pillows before and after stowing in the compression sack. We were initially a bit dubious that the pillows would even fit inside, but fit they did. We bought a second 32L to compress a queen-sized comforter and again were surprised that it actually fit inside. The compression sacks do an amazing job of reducing their stored size.
Two standard pillows at left, stowed inside a 32L compression sack at right.
We bought more sizes for other camping gear, such as extra blankets, and started using them in our luggage as well. We found them especially helpful for our recent two-week trip to Switzerland, where we brought carry-on luggage only and spent a week directly before the trip at the re:MARS conference. The picture at the top of this post shows all our clothes for the entire trip.
For larger items of clothing, such as bulky winter coats or vests, we use the compression sacks as is. But we found them a little difficult for managing large amounts of smaller items, and they tended to crease things as well. So we put these items inside zipper-based VASCO compression packing cubes. These compress reasonably flat with a zipper, keeping the contents relatively wrinkle-free, then we compress them further inside a straitjacket sack. At a hotel room, we reverse the process and have a nice cube that can zip fully open across the top for easy access to the contents.
Zipper-based VASCO compression packing cubes, uncompressed at left and compressed at right, work well for managing large amounts of smaller items.
We further compress the zipper-based packing cubes inside straitjacket sacks.
One minor negative of the straitjacket compression sacks is that the contents aren't visible through the opaque sides and we occasionally open the wrong one when looking for a certain piece of gear. To solve this, we use velcro cable labels that we can switch out to match the sack contents, depending on the gear we are carrying. And even if we don't need to change the label, knowing which bag to use for a particular item helps us be more efficient when, for example, breaking camp.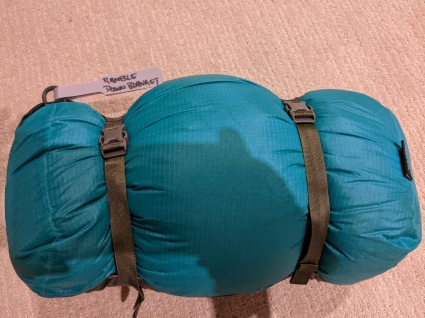 Removable velcro cable labels identify sack contents.