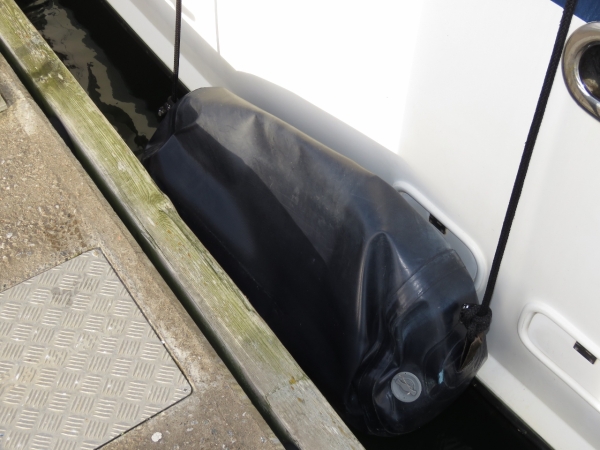 Just under three years ago, we purchased a full set of ProStock Marine fenders. We like to be well-fendered so we ended up buying just over $2,000 worth of these fenders. In the intervening three years we have been super-impressed with them. They have been used in gales up against cement walls, when fueling from a steel barge in the open ocean surge in St. Helena, and in 73-kt winds where it is so rough that nearby boats have had cleats torn off the boat. What we really like about them is that, unlike our previous Aere fenders, they have held air without patches or service work.
We were surprised to wake up to find two of 18″x42″ ProStock fenders both failing the same night while we were Dublin, pictured above. Since the two failing fenders were both side-by-side, the boat came close to grinding against the dock and was saved only be the ridiculous number of fenders we typically use on Dirona. Here's a picture of our normal fendering approach.
The ProStock Marine fenders have a five-year warranty which suggests they are serious about building a long-lasting product. We let the manufacturer know we had a couple that failed while we were in Dublin. Since we have likely used the fenders more than the average boater, we asked that they consider selling us replacement fenders at something close to their cost rather than replacing them outright under warranty.
ProStock Marine replied to our fender failure report that they felt we were in extreme conditions and a boat of our size would require much larger fenders. Looking at the picture above you can see that more fenders or larger fenders would be challenge. We are almost solid fenders all the way down the side. Nobody has ever looked at our boat and commented that we were lightly fendered or that the fenders were "small" :-).
Classifying temperatures in the high 30F range and winds in the mid-30s as "extreme" suggests that ProStock either doesn't realize what boaters will see at the dock or they just don't want to be asked for warranty service. I suspect the latter. As a waranty replacement proposal ProStock Marine offered 10% off of full retail price. 10% less than retail price is a long way from "we will repair or replace the product at no charge." It also seems kind of nuts that ProStock would actually make a higher than usuual profit selling directly to us on a warranty replacement than they would make when selling new fenders to a retailer. It seems a bit unreasonable for ProStock to have a five-year warranty and yet ask for a higher profit margin on a warranty replacement. Since we bought the fenders in a fairly large purchase, the retailer we purchased them from gave us more than 10% off so, paradoxically, on this proposal we would be paying more than we would normally pay in the retail channel.
Generally, I'm impressed with the fenders but having two fail in the same evening is a bit of a concern, partly because the boat could be damaged and partly because that ends up being a $500 evening. The ProStock Marine five-year warranty appears to be just a sales tool where they don't actually do anything if the fenders do have a materials or manufacturing problem. The ProStock report that we need larger or more fenders seems a bit of out touch. The offer of 10% off of full retail price for a warranty replacement feels unreasonable.
We still think the fenders are pretty good, but I'm not particularly impressed with ProStock Marine as a company. I hate seeing the boat at risk from two sudden fender failures the same evening in only moderate winds. Waking up to needing $500 in new fenders isn't great and the complete absence of warranty on a fairly expensive product is a concern. ProStock Marine seems like a good fender but a bad company.
2018-02-27 Update: We've written up our latest approach to fendering in Fendering Take Three