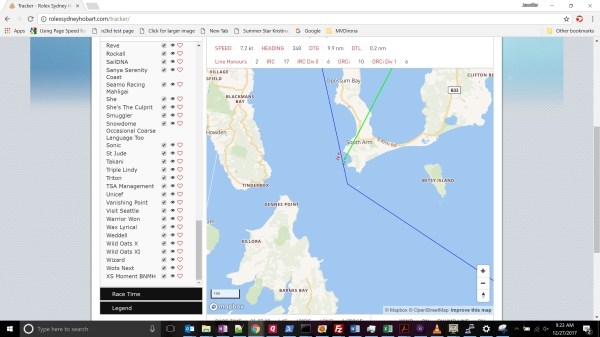 It's 8:21pm on the 27th and what is going to be an exciting finish is near. Wild Oats XI is only 1,200 feet back of the leading and favored boat Comanche. They are just entering the Derwent River for the run to the finish line. As night approaches, the wind in the River Derwent is typically light and today is no exception.
Comanche is often referred to as the Aircraft Carrier due to it's extreme beam. But, in the light winds of the river as they close on the finish line in Hobart, Tasmania Comanche won't have it's usual speed advantage. Wild Oats is within sight and a few good tactical decisions could put them in front to cross the line.
There was a foul early in the race that may be decided against Wild Oats but I'm ignoring that outcome for now and just enjoying watching the tactical dual to the finish. My only disappointment is that Tom Slingsby at the helm of Infotrack isn't in the lead but, other than that, it's an incredible race.
You can see the tactical fight up the river here: http://rolexsydneyhobart.com/tracker/.