Task Viewer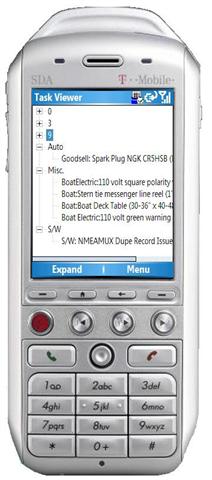 The task viewer that comes with Windows Mobile 5 doesn't show task categories, doesn't support new task creation, and has a weak task editor. I make fairly heavy use of tasks so I wrote one that did what I want. It support task creation, shows categories in a tree view, and supports editing. Completed tasks are shown as completed for a day after being marked done rather than just simply disappearing as they do with the default viewer.
QVGA version available at: QVGA Version (HTC Tornado, Cingular 2125, T-Mobile SDA, etc.

Landscape QVGA version available at: QVGA Landscape Version (Samsung Blackjack, Samsung i607, Motorola Q, etc.)
Task viewer is a .Net 2.0 application and newer devices come with 2.0. If your phone isn't yet have 2.0, you can download it for free from Microsoft.
If you have trouble installing, your phone may be application locked. See the unlocking section.
Questions or comments to mailto://jrh@mvdirona.com.
Last updated 2007.10.01