Inflatable Kayaks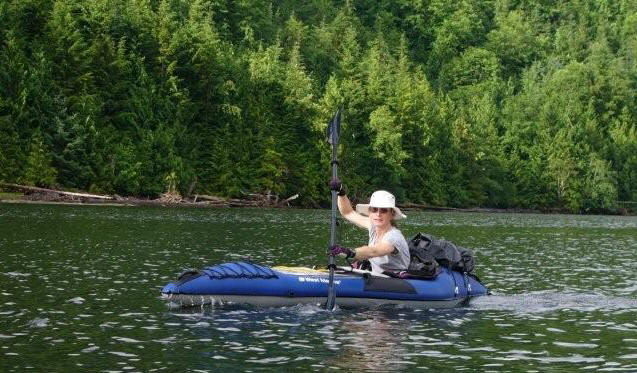 We purchased inflatable kayaks for two main reasons: portability and redundancy. For portability, we wanted a craft that we could portage to explore inland waters. We had tried installing wheels on the dinghy, but these bent on our first landing on a rocky shore. And even if we'd gotten the dinghy ashore, we would have had a difficult time moving the wide and heavy craft along a bumpy, steep or narrow trail. For redundancy, we wanted a backup auxiliary craft if our dinghy were disabled, lost, or unreachable. We also had become concerned that if one of us were out in the dinghy and needed assistance, the other might not be able to reach them.
Kayaks were the obvious choice. The longer ocean-going kayaks were out mostly due to size and storage difficulty. Smaller kayaks are easier to stow, but are relatively heavy at 40 lb or more and are less stable than their larger siblings. Inflatable kayaks fit the bill: they are lightweight and take little space. A variety of brands are available, including Advanced Elements, Airhead, Innova, Sea Eagle, Sevylor, Stearns and West Marine. Prices vary greatly by desig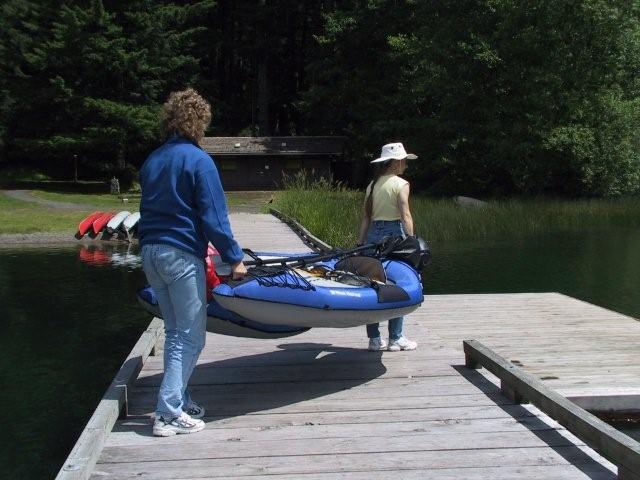 n and model—our budget was about $300 per kayak. Sit-on-top designs are common, but we felt they would be too exposed for our cold waters. Many also looked rather delicate—we didn't want to be constantly fixing puncture holes. We decided on Stearn's IK116s made for West Marine and have not regretted the purchase. The craft are ruggedly constructed and have put up with all kinds of abuse so far without damage. And we can readily carry them between us—they weigh 29 lb each and have padded, built-in handles.
The inflatables are slower than their hard-shelled relatives, and require a bit more effort to paddle. But they make up for that somewhat in stability and maneuverability. In our limited experience, the smaller hard-shelled kayaks can be unstable in minor wakes, but the inflatables do fine in 1-meter chop or rapids. The IK116s also are reasonably easy to land, and ideal for running a stern-tie line.
One major disadvantage of inflatable kayaks is limited onboard storage space—the inflatable tubes leave little room for anything else. Fortunately, the IK116s have many tie-down attachments. We stow gear in large dry bag knapsacks that we carry on our backs when portaging and tie onto the kayaks when underway. Another potential disadvantage of inflatable kayaks is a wet ride. Ours h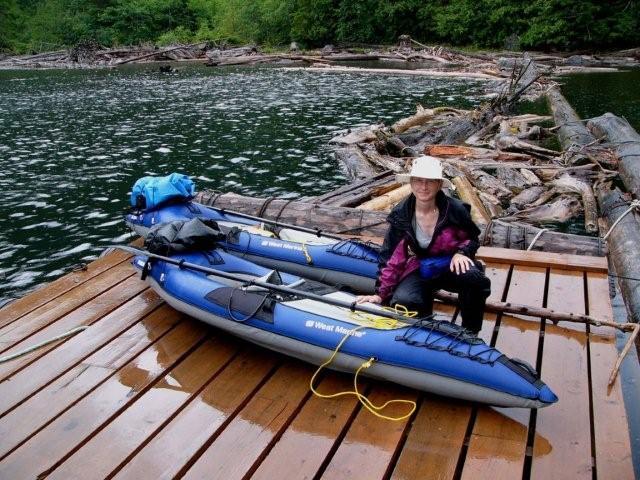 ave spray skirts that reduce, but don't prevent, water from entering. And the seat base rests on a thin inflatable floor, so if we do take on much water, we'll soon be sitting in it. A combination of rain pants and a bailing sponge behind the seat keeps us reasonably dry.
We initially stored the kayaks deflated. Although we can inflate them both in about 15 minutes with a foot-pump, we found this too time-consuming and instead keep them stored across the stern with our dinghy.
So far, the kayaks have met their design point, and we use them constantly on our summer trips. Our most ambitious paddle was midway down Long Lake in Smith Inlet. We carried the kayaks just under a kilometer to the lake shore, then paddled nine nautical miles to reach an amazing pictograph display. The trip was a success, but we'd definitely reached our paddling limit.
Equipment Notes
Stearns has replaced the IK116 with the lighter 23-lb Spree. Our knapsack dry bags are SealLine Boundary 35 day packs. We also carry SealLine Kodiak Window 15 dry bags, with purge valves to squeeze air out. We can fit them between our legs when paddling to keep smaller items accessible.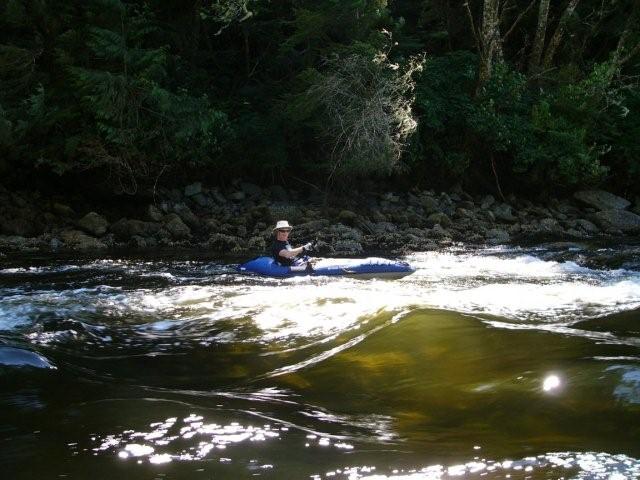 This article originally appeared in Pacific Yachting, July 2007.